Welcome to the Steel Work Solutions blog, where we are thrilled to share our expertise in custom metal railings and celebrate the beauty of walkout basements. If you own a home in the Greater Toronto Area, specifically in Brampton, Mississauga, Oakville, Toronto, Etobicoke, or Milton, and have a walkout basement, this post is tailored just for you. Discover the perfect combination of safety, style, and craftsmanship as we delve into the world of walkout basement railings and how they can enhance your property.
The Importance of Walkout Basement Railings
Walkout basements have become a coveted feature in many homes, offering a seamless transition between indoor and outdoor living spaces. However, this desirable convenience comes with certain safety considerations. To ensure the safety of your family and guests, installing sturdy walkout basement railings is paramount. These railings provide a protective barrier and prevent accidents, especially in areas with uneven terrain or changes in elevation.
At Steel Work Solutions, we understand the significance of safety in every home. Our team of skilled craftsmen is committed to creating custom wrought iron railings that adhere to the highest safety standards, offering you peace of mind as you make the most of your basement's outdoor extension.
Unmatched Customization: Your Vision, Our Expertise
We believe that every homeowner's vision is unique, and our mission is to bring those visions to life. Our custom walkout basement railings are tailor-made to suit your style preferences and seamlessly blend with the existing architecture of your home. Whether you desire a contemporary, minimalist design or an intricate, ornate masterpiece, our talented designers and craftsmen are at your service.
Together, we'll collaborate closely to understand your preferences and incorporate your ideas into the railing design. With an extensive selection of premium materials, finishes, and decorative elements, your custom railings will be a reflection of your taste and individuality.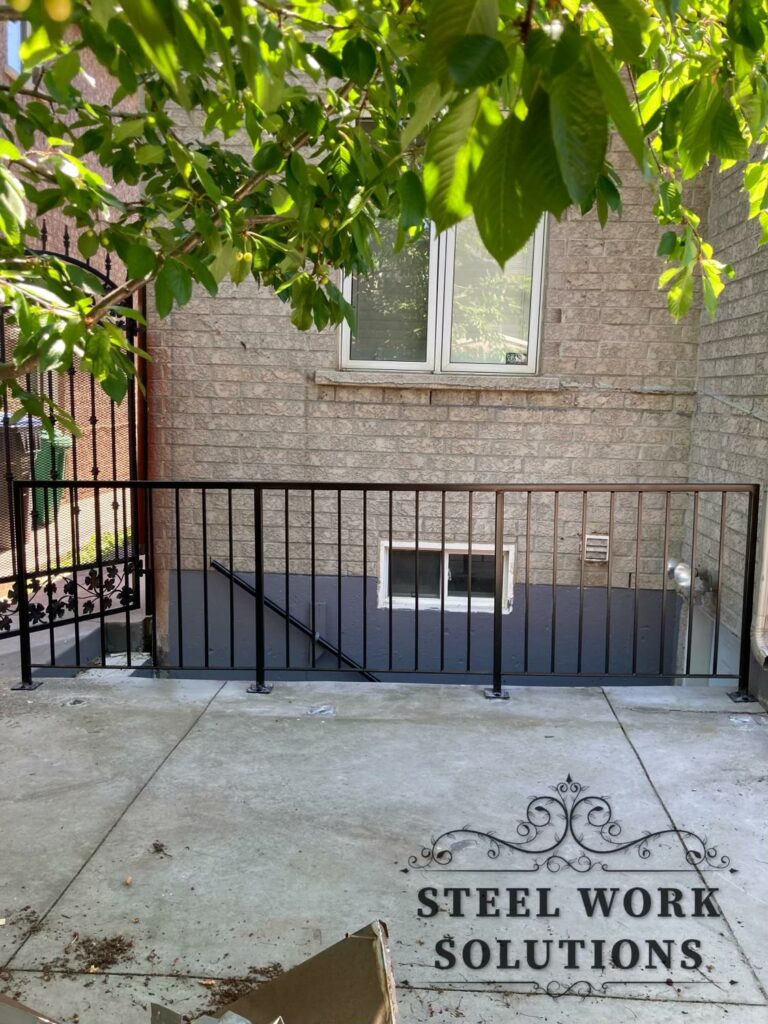 The Steel Work Solutions Difference
At Steel Work Solutions, we take immense pride in our craft and are passionate about providing you with the finest metal fabrication services in the Greater Toronto Area. Here's what sets us apart:
Unparalleled Craftsmanship: Our team comprises highly skilled artisans with years of experience in metal fabrication. We meticulously attend to every detail, ensuring the end result is nothing short of perfection.
Premium Materials: We source only the highest quality materials, guaranteeing that your railings not only look stunning but also stand the test of time and weather conditions.
Serving the GTA: Based in the Greater Toronto Area, we proudly serve Brampton, Mississauga, Oakville, Toronto, Etobicoke, and Milton, bringing our expertise and craftsmanship to homeowners in these vibrant communities.
Affordable Excellence: Our top-tier workmanship comes at competitive prices, making our services accessible to everyone who seeks exceptional custom metal railings.
Timely Delivery: We understand the importance of staying on schedule with home improvement projects. Count on us to deliver your custom walkout basement railings promptly, without compromising on quality.
Get Started Today
Enhance the safety and beauty of your home with Steel Work Solutions' exquisite walkout basement railings. Whether you reside in Brampton, Mississauga, Oakville, Toronto, Etobicoke, or Milton, our team is ready to serve you.
Contact us today to discuss your project, request a quote, or schedule a consultation with our team of experts. Together, let's transform your walkout basement into a safe, stunning, and functional space that you and your family will cherish for years to come.
At Steel Work Solutions, we are dedicated to making your vision a reality. Elevate your property with custom metal craftsmanship that stands the test of time.