Are you looking for the best steel railings for your home in the Greater Toronto Area or surrounding? Do not worry; we've got you covered. In this article, we will explain diverse steel railings so you can choose wisely.
Your boring deck, porch, or stairs may become a modern, cozy, enclosed room with the addition of a wisely chosen railing. It gives it a defined structure and ensures everyone's safety in the house. By including a matching railing, you may completely alter the appearance of your staircase or balcony and add various aesthetic features that complement your home.
Since railings have long been a necessary architectural component, you should choose the best home railing design that meets your demands and specifications.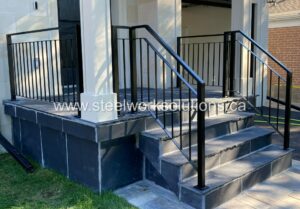 Ideas for Different Steel Railing Designs
You home's porch, deck, or staircase will appear elegant and lovely thanks to an attractive railing design, which serves as a decorative accent as well as a safety feature. Additionally, it will improve the home's general interior design. You can realize your dream of having a stylish steel or wrought iron railing for the stairs. Simply choosing the proper steel railing type is all that is required. Steel railings have the unique quality of complementing any mood your space may have.
Here are a few design ideas for steel or wrought iron railings:
1. Simple Wrought Iron Railings
Simple terrace outdoor railings designs should complement the existing style of your property and may enhance the appearance from the outside. Modern elegance refers to using suitable material to enhance a thing's appeal. The easiest solution would be a wrought iron railing because it is simple to maintain, galvanized and has a clean appearance. Nowadays, most homeowners prefer a minimalist style.
2. Steel/Wrought Iron Railing with Floral Pattern
A building's bare exterior is a perfect complement to a flowery pattern. An excellent place to have a wrought iron railing with a floral design would be in the porch or deck outside of the house as metal porch railings compliment the look of the house in combination with the home's front garden/landscaping.
3. Combination of Glass & Steel Railings
The glass railing's sleek, contemporary terrace grill design creates the ideal air of elegance. Since there is no exterior or interior decoration to enhance the appearance, the straightforward structure is simply elegant and stylish.
Make sure to check out our project gallery to see a sample of our glass and wrought iron railings.
4. LED Railing Designs Steel Lighting
Many people use LED lights to illuminate their railings. This is a chic method of glitzily enhancing the staircase's appeal. Lights will give your porch or deck a touch of luxury, decorate it, and make it the center of attention in the living space. You can play with lights of varied sizes, shapes, and hues.
Why Choose Steel Work Solutions?
Aluminum and steel fabricators Steel Work Solutions is a family-run business in Mississauga, Ontario. We have been effectively operating in the metal fabrication and aluminum/steel industries for more than 20 years, and we are one of the Greater Toronto Area's most highly regarded aluminum and steel/wrought iron contractors.
We offer wrought iron and aluminum as materials, and we provide porch railings, deck railings, balcony railings, basement entry railings, handrails, indoor railings, and industrial guardrails. We offer custom designs to suit everyone's taste and proudly serve the Greater Toronto Area and surroundings.
Check out the designs below for more inspiration!